Tom Barabas Sheet Music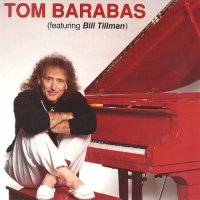 Tom Barabas is an American-Hungarian pianist/keyboardist. He studied classical music at the Caracas Conservatory in Venezuela before developing a taste for rock, jazz, and New Age.
Contents
1 Childhood
2 Live performance
3 Critical and commercial success
4 Reviews
5 List of albums
6 References
7 External links
Childhood
Barabas spent his childhood in Hungary, and emigrated to the US in the 1960s, living and composing in San Diego, California. In the classic style of great, onstage performers, Barabas delivers a musically eloquent experience that builds rapport with his audience and invites them to fall in love with his graceful streams of sound.
An Early Start - Barabas began playing music at the age of four in Budapest, Hungary. By age 12, he had attracted the interest and praise of his piano instructors and he made his public debut at the Liszt Conservatory of Music. In 1949 his family emigrated to Venezuela where he studied classical piano and composition at the Venezuela Conservatory of Music in Caracas, Venezuela's "Juilliard". He earned his Master's Degree in 1957.
Live performance
The Live Experience - The classical training of the conservatory, the vibrant Latin and Caribbean pop music of Venezuela, and the raw energy of North American rock-n-roll all have contributed to the fresh compositional style that has come to be Barabas's signature.
Barabas has had a lifelong love-affair with live performance. After a successful career performing daily on stage, radio and television in Venezuela, Barabas moved to San Diego in 1966 seeking greater opportunities. The Southern California music scene inspired and cultivated his interest in jazz and soon he was opening for such jazz greats as Oscar Peterson, Bill Evans and Ramsey Lewis. He later became the house pianist for a five-star resort and it was during his tenure there that his creativity and innovation flourished and he began playing his own compositions.
A seasoned professional dedicated to originality, Barabas's career has been built on his unique blend of personal composition and trademark style. His sensitive and passionate relationship to his music is a true dance of the heart.
Critical and commercial success
Barabas has a nationwide following. He's released 12 CD's, three of which have made the Billboard Charts. Sedona Suite, perhaps his best loved album, charted #12 and held that position for 29 weeks! Other albums of note include Wind Dancer (with Dean Evenson), reaching Billboard's Top-15, and Classica Nouveau, which reached #18 on Billboard's Top-20. He has also released Journey Back to Sedona, Mosaic, Piano Impressions, Magic in December, Soaring and Back To The Garden (both with Dean Evenson), It's a New Life, Romantic Rhapsodies and Tom Barabas Live.
Barabas and Dean Evenson have enjoyed a long friendship and musical collaboration on several Soundings albums including Soaring, WindDancer, Back to the Garden and Healing Suite.
"With just a solo grand piano, Tom Barabas has created an absolutely glorious album that highlights his virtuosity as a performer and allows his unique artistry as a composer to shine through." — Ted Cox, TOWER RECORDS, NAR Reviewer.
Barabas has enjoyed the spotlight across the country. He is sought by corporations, cruise lines, production companies, concert and program planners, hotels, spas and resorts to bring a level of quality and beauty to any event. He wrote and performed an original composition for the Heartkeys AIDS Benefit Concert and the Heartkeys album and has performed for the American Cancer Society and the AIDS Foundation of America. Some of his better known performance venues have been with the Metropolitan Museum of Art, Red Rocks Amphitheater, Delta Airlines and Princess Cruise Lines.
Reviews
Tom Barabas - Sedona Suite Piano Sheet Music
Advertisement
Advertisement

Please right click on the download button and select "Save Target As" or "Save Link As" to download



You can share this sheet on your Twitter or Facebook account to let your friends know too!


(7.16MB)